Buddhadev Dasgupta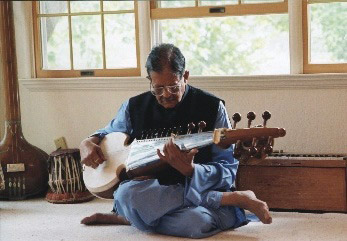 Extrait d'un « entretien » avec BDG ramassé sur www.Dhadkan.com. Les photos viennent de son fils Anirban Dasgupta.
To write an introduction to Pt. Buddhadev Dasguptaji is indeed a very
difficult task. His towering presence, immense knowledge and complete
mastery of the Sarod make him an institution in himself. On his visit to
Mumbai recently, he gave some memorable performances. His performance at
Sangeet Mahabharati, the exclusive music institute established by
Padmabhushan Pt. Nikhil Ghosh was mesmerizing. I was among the audience. As
I listened quietly, I was transported into a journey among the twinkling
stars, which formed a beautiful musical pattern with the full moon, on the
masterful commands played by this eminent Sarod maestro. On later inquiring
about the raga, I learnt that the raga played was Jaijaiwanti, a grand night
raga. I have not yet learnt this raga in the course of my musical training.
Yet, I was drenched in the emotional colours of this beautiful raga. Its
silver visions still haunt my dreams. It was a great honour to interview Pt.
Buddhadevji, the musical magician.
Pt. Buddhadev Dasguptaji, what were your early years like?
My background was absolutely non-musical. My grandfather was a hard-boiled
advocate who thought that music was the easiest road to hell. My poor
father, who had some love for music, was very often thrashed by my
grandfather within an inch of death, because he had gone to listen to music.
So that is my musical khaandan. However my father loved music and although
he could not learn it, he wanted his child to be at least musical, if not a
musician.
At the age of three and a half, my father took me to a conference in those
days, where one of the great singers was singing. My reaction was, that I
just got up and asked him to stop and not to make noise. The next meeting
with music was at the age of five, with this gentleman (points to Pt.
Pannalal Ghosh's photograph) and with Pt. Nikhil Ghosh. They were both
residents of the town Barisal, which is now in Bangladesh. My father was
transferred there, he had a government job. He tried to make friends with
the local musicians wherever he went, so that some sort of music was done at
his home during evenings, particularly weekends. There I saw Pannalal Ghosh
and Nikhil Ghosh. At that time, I never knew who they were or what they
were. I developed a fancy for his (Pannababu's) flute, seeing his flute. I
asked my mother for a flute and was rudely refused. However I saw that this
gentleman (Pannababu) had about twelve flutes in a box. So stealthily I
asked him, that he had so many flutes, could he not give me one?
Unfortunately, my mother caught me making this request and again I got
capital punishment, for quite sometime. Pannababu ultimately gave a flute to
me and told my mother, "Don't scare the baby, who knows he may be a musician
later on," this is how it went. Unfortunately, it so happened, that though
my parents met Pannababu a number of times, I never could meet him again.
When I was nine, my father was transferred to another town called Rajshahi.
My guru, Pt. Radhika Mohan Moitra had his ancestral home there. On my
father's invitation, he came to our home and played the Sarod. It was a very
tantalizing looking instrument and so I thought that I might just as well
try and learn it. But it was a very rare instrument those days and my father
was in government service. In another year perhaps, he would be transferred.
The question was, who would teach me then? But my guru took to me very
kindly. He gave me his childhood Sarod and when inevitably we were
transferred to some other place he came on his own to my place stayed with
us for fifteen days, taught me and went back. This was upto my fourteenth –
fifteenth year. After partition, we went to Calcutta. My guru lost his
zamindari properties in East Bengal, he also came to Calcutta. From then
onwards, I was with my guru all the time.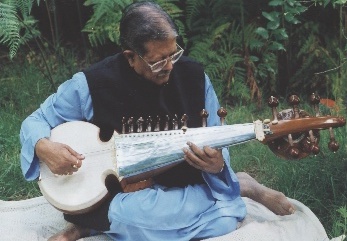 How long did you learn under him?
From my ninth year of age which was in 1942, till 1981 (39 years). There
were breaks, as I had to take up a non-musical profession and study too. I
went to an Engineering college and had an Engineering career. So there were
breaks in my taaleem and also in my riyaaz. But ultimately I stuck to my
guru right upto the day of his death. I never needed another guru of any
kind. It's true that I have learnt music from other sources, I acknowledge
them very gratefully but so far as Sarod is concerned, he was my only guru.
Will you tell us something about your academic background?
I stood second in the matriculation examination in 1948. I secured a
scholarship in Intermediate Science in those days. I stood first class
second in Mechanical Engineering. I went to Tata Iron and Steel Company,
Jamshedpur for a one-year training. There was a post training examination, I
stood first there. After that, I worked in Dunlop Rubber Company for a while
and then I was taken up by the Calcutta Electric Supply Corporation, who
sent me overseas for training to England. After returning, I was taken up in
their regular engineer's cadre and served them till 1st May 1998.
How did you balance your career with your music?
It was a very distressed existence. Generally it is believed that if you
take to music, your studies suffer and if you are sincere in your studies
your music goes out, but I had some determination to continue with both. I
never wasted a minute. Between different jobs and even at home even if I got
fifteen minutes, I continued my riyaaz. I could not practice non-stop for
hours, but I continued my riyaaz for strips of time whether it was fifteen
minutes, half an hour or one hour.
My job was a very unkind job. There were ten particular years, when there
were no Saturdays, no Sundays in my life and I was taken away from home and
put into some sort of a prison. By the side of the power station where I
worked, there were quarters so that I could be on call for twenty-four
hours. So naturally, circulating as a musician in different parts of India
suffered extremely and upto my fifty second year of age I could never go
outside India, although I received invitations because a tour requires
two-three months' leave. I was never given that leave. Only during my one
month's statutory leave, I tried to circulate to different parts of India,
to whatever programmes could be had.
At that time, the media was restricted to the All India Radio only and it
was through AIR that I really preserved my existence. People could know that
this boy was still playing Sarod. The first chance to go abroad was when I
was selected as a senior musician in the festival of India in USA. That was
a government invitation. I showed that invitation letter to my bosses and
they jumped up! They never knew that this fellow, who works as an ordinary
engineer in one of their power stations could be of such an order, that he
was called by the Government of India to represent the country. So they were
all kindness and help and gave me three months' leave with full salary.
There had been other pitfalls and stumbling blocks. My first National
programme which was in those days carried by Delhi radio itself (it was not
a recorded national programme) was almost lost, because the night previous
to when I was to start out for Delhi, there was a small accident in my power
station and being in charge of the power station for that night, I was held
up for questioning. With great difficulty, I secured my release at three pm
and flew to Delhi by the five pm plane. Next day I played my National
programme and came back the next morning. There were hindrances many times.
There have been occasions in Calcutta where I was playing in a conference,
but had to leave the telephone of the conference people with my bosses, "Ki
agar zaroorat ho, to wahan se kaan pakad kar le aayen."(So that if need be,
they would catch me by the ear and get me).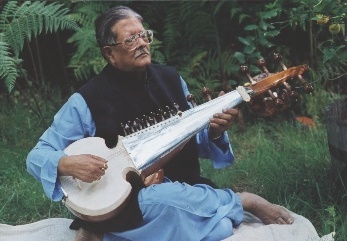 Did you not think of giving up your job and concentrating on your music?
In our younger days classical music could hardly provide you your bread. One
or two classical musicians were reasonably well off (not well off like
today, with five great buildings, Mercedes Benz cars, crores of money) no,
but they were reasonably well off. They could have a square meal a day,
rather two square meals a day…. to be more exact. But most of the classical
musicians were just around the starvation level. So therefore for this
security, you had to get into a job and the job that I selected was most
unmusical. "Agar das baje se paanch baje tak kaam hota", (Even if I had a
ten to five job) I could have played the Sarod much better. But this is how
it went. Going on in this manner, I decided to jump off as soon as I
qualified for my retirement benefits. The day I reached fifty-five, five
years before my normal retirement age, I threw in my resignation so that for
the rest of my life, I could still be with my music, as much as I could. A
man who helped me come out and steady my feet was Vijay Kichlu, who gave me
no end of moral support, helped me as much as he could and gave me a berth
in Sangeet Research Academy immediately after my retirement. For four years
I worked there.
Please tell us something about your guruji, Pt. Radhika Mohan Moitra?
Radhika Mohan Moitra was the disciple of Ustad Mohammad Amir Khan. (Not the
gawaiya Amir Khan, but a much more senior Ustad, who belonged to the Rababi
tradition). To make his position more clear to you, you start back
calculating from the most popular Sarodiya of our time, Amjad Bhai. Amjad's
father was Ustad Hafiz Ali Khan. Hafiz Ali Khan saheb's father was Nanhe
Khan. Nanhe Khan had two elder brothers, the middle elder brother was Murad
Ali, and the eldest brother was Hussain Ali. Murad Ali Khansaheb adopted a
boy called Abdullah Khan, as he was childless. Abdullah Khan became a real
terrific Sarod player in his time. Abdullah Khan's son was Mohammad Amir
Khan, who taught my guru. Mohammad Amir Khan died fairly early when my guru
was barely nineteen – twenty years of age but he had groomed up my guru
fairly well, practically packed up all his 'taaleem' into him.
Later on to supplement his learning, my guru took lessons from Ustad
Mohammad Dabir Khan. Dabir Khan was the grandson of Ustad Wazir Khan,
Allaudin baba's guru, of Rampur. My guru learnt Dhrupad and Veena Ang
playing from him. His style ultimately combined Rababi ang and Veena ang.
And of course any musician to be noticed in the music world, has to develop
his own musical personality. My guru's musical personality was so strong,
that in those days going over the different wavelengths on the radio set, if
you suddenly came across a Sarod being played, you didn't know the
announcement and had not heard it, yet in two seconds you could gauge that
this was Radhika Mohan Moitra and nobody else. That is the unique musical
personality, what one should ultimately aim at. So that is my guru. He died
of an accident in 1981. Unfortunately, he injured his head in a fall and
never recovered from it.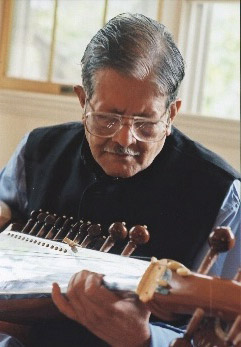 How would you describe him as a human being, guru and musician?
As a human being, he was very humorous and his conversation left everybody
electrified and alarmed at the same time. Nobody could know when his track
of talks could turn in which direction and pull your leg in this way or that
way. He was a great favourite of his friends and this trait of his, this
unpredictability of what he was going to say the next moment was very much
in his playing taans, his surprise changes of direction were just like his
talking. This is what somebody is born with. I tried to emulate him but it
was just second-class copying. I could never get anywhere near him. That was
his style.
He was a great purist and during early years of training, he never allowed
the slightest deviation from the outlines of a raga; the outline which
according to him, was the correct outline. For improvisation sake, many of
us go a little this way or that way, while broadly sticking to the track of
the raga. He would not allow that for a single moment. He bound my hands and
feet so firmly, that today when I try to improvise, I just cannot go out of
the track. That was his outlook. He created a few new ragas, but he was
never in favour of going on creating new ragas. He used to say that our
musical ancestors were not fools. Out of the twelve notes that we have in
our octave by permutation and combination, many thousands of ragas can be
created and they were created by exploring musicians in the past. Only those
ragas which carry some human message and which touch the heart have lived.
The others were toyed with and then thrown into the waste paper basket. Long
after that, someone of us remakes them and says he has created a new raga.
Only time will tell, how many of these ragas will ultimately survive the
test of time.
But Pt. Radhika Mohan Moitra did invent a few instruments, such as the Mohan
Veena.
That is a tragedy also. He designed and invented an instrument called the
Mohan Veena. You think of the Sarod, you take out the skin of the drum,
replace it with the tabli of the Sitar with a Sitar like bridge, keeping the
rest of the instrument intact, that was Mohan Veena. Thakur Jaidev Singh who
was at that time the chief producer of music, hailed the instrument. He
named it as Mohan Veena and it was accepted as an instrument in AIR. There
were national programmes made by my guru on Mohan Veena, which are possibly
still in the archives.
Unfortunately another musician, who is also a very great musician and a
world-renowned musician, plays the Guitar. He has made certain small changes
in the Guitar and renamed it as Mohan Veena. We courteously pointed it out
to him to kindly give his Veena some other name and have some respect for
the man who made the original Mohan Veena, but he just did not pay any heed.
He was sort of stamping his feet, saying this is Mohan Veena. So this
controversy can never end, but there is palpable and unmistakable evidence
and proof, that it was done by Radhika M ohan Moitra, on a totally different
instrument. The instrument that has been devised now, is after all a Guitar.
It does not have the bridge of a Veena. "Veena ki jo characteristic hai
sound ki", is not there in this sound. (The new Mohan Veena does not have
the sound of the Veena). Only when you put the strings on a bridge like the
Sitar or the Surbahar, does the Jawari portion of the whole thing come in.
So, elements of the Veena must be there in the sound of the instrument to
justify its being called a Veena. Anyway, that's where it stands.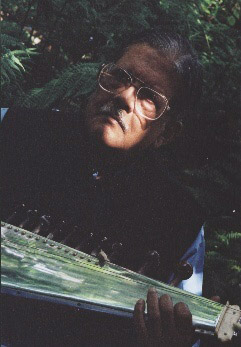 But are there any exponents, does that instrument still survive?
Some of my gurubhais play it and I am thinking of playing it. It is an alap
instrument and in these days of very little time, when a Sitaria or a
Sarodia can no longer devote an hour or two for playing alap, the audience
can rise and leave, that is the principal reason why no one is playing it.
But if you give me a Mohan Veena, I can play it. And I am thinking of
regularly playing it pretty soon.
That way it will come to the notice of people too.
It had come to the notice of people in that age but I must admit that it is
our fault, our guru's disciples' fault that we are not keeping it up and
practicing it.
Ptji tell us something about the Sarod and its styles of playing.
As regards the history of the Sarod there is no doubt, from the shape of the
instrument and the way it is held and played, that the Sarod is a descendant
of the Afghan Rabab. There were other Rababs in vogue, there was the Tanseni
Rabab played by Tansen's descendant, but that Rabab was a much larger one,
almost twice the size of the standard Sarod, with a great big drum. You
could not hold it like a Sarod. You had to place the stem on your shoulder
and the drum on the ground and play it. On the other hand the Afghan Rabab
was much smaller and portable and the way it was held as is held even now,
is directly linked with the way that the Sarod is held and played. Afghans
usually played the Rabab not in a sitting position always but when marching
into battle, marching in a marriage procession and almost without exception
all the Afghan soldiers, whether they were horsemen or infantryman, carried
a Rabab with them.
Roughly about hundred and seventy five years ago, three such Afghan horsemen
migrated to India and took up employment under various Rajas and Nawabs of
India. One of them was Ghulam Bandegi Khan Bangash. He came and took
employment with the Maharaja of Rewa, MP. Now as the Rababiyas continued to
live in India, it was found that they were also musicians playing the Rabab.
Their original appointment was as soldiers, but their patrons also gave them
place in their court as musicians. They were naturalized into our musical
stream and they learnt Tansen's music from Tansen's descendants.
In those days, all instruments tried to emulate the human voice and the
Dhrupad. The Rabab because of its construction (it did not have a steel
finger board, it had a polished ebony fingerboard and it did not have metal
strings but cat gut strings instead). Because of that, it was a very short
breadth instrument. Meend was almost impossible to execute on the Rabab.
Therefore, the creativity of the Rababiyas concentrated on the right hand,
in the form of multiple kinds of pluckings and interesting plucking
patterns. As the Rababiyas gradually lived on from generation to generation,
they were very conscious about the shortcomings of the Rabab and they at one
time incorporated the steel plate and metal strings to the Rabab and that is
how the Sarod was born.
The old type Sarod was the type that I play today. Baba Allaudin and his
brother Ayat Ali Khan did some improvements on it. They enlarged the drum
into a round shape and added a few more strings to it. It became a more
melodious instrument that way. That is the Maihar style Sarod that is played
by a majority of the Sarodiyas of India today. And a few elderly people like
us stick to our old school Sarod and of course Amjad Bhai has also stuck to
it. He plays the old style Sarod. That is the history of the Sarod.
What about the construction of the Sarod?
Generally there are two types of wood, which are used in the Sarod, tun and
teak. Teak generally gives you a little shriller quality of sound so that
bols are crisper, but there are tun wood sarods also which can largely
satisfy your requirements. But in general, tun gives you a much mellower and
sweeter sound. We play teak sarods. Our requirement is to make the sound
mellow and round, or crisp and sharp when you want. Basically I am now
playing a teak instrument but there are one or two tun instruments also
which if necessary, can be played with more treble in them.
What are the different styles of Sarod playing?
The Maihar style Sarod has a slightly different timbre. The meend has
increased; of course we have also made certain slight changes, in our old
style Sarod so that the meend increases. Now the meend is almost practically
the same in both Maihar and our style instruments. But the old style of
playing incorporates the Rabab ang playing, to a large extent. The plucking
of the right hand, multiple plucking patterns and the left hand work were
largely incorporated by Baba Allaudin himself, who took extensive lessons
from Wazir Khan the Beenkar and incorporated the Been ang of playing in
Sarod. Now all Sarodiyas follow suit.
All things considered and all said and done, I regard Ustad Ali Akbar Khan
as the best Sarodiya and one of the best musicians within my knowledge. That
does not mean that I am disloyal to my guru. My father is my father and I
will always continue to be my father. To me, Ustad Ali Akbar Khansaheb is a
colossus, a God. Nobody has been able to approach him and perhaps never will
be. Our ties with the Maihar gharana are extremely strong because of the
extreme large heartedness of Baba Allaudin and his son Ustad Ali Akbar.
Baba Allaudin was a judge in a music competition in Allahabad where
eighteen-year-old Radhu Babu played. Needless to say, Radhu Babu stood
first. Baba Allaudin, Ustad Hafiz Ali Khan, Ustad Inayat Khan and Pandit
Ratanjankar formed the galaxy of judges. Baba Allaudin asked Hafiz Bhai,
"Yeh ladka kahan se aaya? Kaun isko sikhaya? Hafiz Ali Khan said that
Mohammad Ameer Khan from his line had taught Radhu Babu. But Allaudin Baba
did not stop at that. He caught hold of my guru and said, "Baba, you have
really learnt the Sarod as it should be played. Your guru taught you the
real Sarod style and you have imbibed it beautifully. My son Ali Akbar
usually plays behind me. He did not come this time. Tomorrow I have my
concert, will you play with me?" What a great heart! Imagine a great maestro
catching a young boy who does not belong to him, who he has not taught and
is not related to him in any way and asking him to play. Radhu Babu started
trembling said, "Huzoor, I have not received any taaleem from you and what
do I play, to get a place beside you there?" Baba Allaudin told him not to
worry and said that he would leave gaps in his playing at the requisite
places where he could play his stuff successfully. When I say this to the
world, everybody thinks that I am trying to impress them but I have a
picture of Baba Allaudin and Radhu Babu together in Allahabad in 1937.
The same attitude was shared by Ustad Ali Akbar Khan. He knew and he knows
what my attitude towards him is and he reciprocates it. I am blessed with
this particular tie with that gharana. Music has given me little return by
way of money and fame but this is one of the greatest prizes that music has
given me, for as long as I live.
How do you define your own style?
My individual style is predominantly Rabab ang but in the alap portion, we
follow the Veena and Dhrupad ang styles to a large extent. In gatkari, I at
least stick to the Rabab ang playing to a large extent. There is also
another development in Sarod, over the last twenty- thirty years; it is also
playing what is called playing ekhara taans or Sitar ang taans. I was also
after it for quite sometime and I still play them. It's all very good to
play Sitar ang taans and be very adept in them, but it never sounds like the
Sitar, because every instrument has its own kingdom. It is really the
supreme authority. Sitar like taans were designed on Sitar and they will
never sound like the Sitar on another instrument. So there will be some
unnatural element in them, just as Rabab ang playing on the Sitar. Some
Sitariyas have done it but they don't really sound as powerful and forceful
as on the Sarod. They were created on the basis of the instrumental
advantage of the Sarod.
What do you feel about the audience in India and abroad?
I started performing abroad at a late age, but I've performed in India
though not extensively but practically in all places where North Indian
music is played. At first the audiences abroad only listened to our music as
a matter of curiosity but our two great stalwarts, Pt. Ravi Shankar and
Ustad Ali Akbar were the pioneers who went abroad and by their incessant
efforts brought them round to a more understanding listening, not lay
listening. Now because of their work, there are quite a few real good
listeners in the west and also a good number of instrument players both in
Sitar and Sarod from amongst westerners.
Finally, what is your opinion on the Indian Classical Music scene today?
It is very difficult to tell. Indian Classical Music initially was not for
the masses. It requires a great bit of education even to understand it.
Therefore relatively fewer people understood and patronized it. Now there
are many more listeners. You could not think of a concert in earlier days
catering to fifteen thousand people, in one place. Today, because of this
kind of distribution of music the number of listeners are great, but
certainly most of them don't really understand the fineries of Indian
Classical music. They understand excitement, so we strive to make our music
more full of excitement or kicks, as you say. Meditative or more serious
type of music very frequently does not appeal to the listeners of today.
"Table ke saath jab ladayi shuru ho jata hai", that is good music to them.
(They like fights with the tabla). Very few people still intently listen and
understand it alap. Going on in this fashion perhaps there will be more
listeners, but more understanding listeners will be relatively fewer.
The state of things is much better in the South. In the South everybody,
every girl or boy in every family has to learn classical music as part of
his education whether it is Vocal, Violin Mridangam or dancing. The result
is that though everybody does not mature into another Balamurli Krishna,
M.S. Subhalaxmi or Balachander, there are a large number of proper,
competent and understanding listeners and this is where the South Indian
musicians are much more fortunate. The percentage of real, samajhdar
(understanding) listeners is much greater in the South. Therefore, when you
see that the more serious and meditative part of your music leaves the
audience cold, your natural endeavour would be to bring out that kind of
music which excites them and fetches applause, because they are the people
who are now giving you your food. That is the way our Indian classical music
is going.
Unless and until the North Indian people decide to educate their children in
the same way that the South Indian people do, I don't see the percentage of
real understanding listeners increasing. Therefore there is a chance that
our music will gradually be more diluted. Indian classical music has got to
be made compulsory in the schools, like any other subject. It is compulsory
in some schools in the South. You are made to read so many subjects in
school, it's not that you are going to be an expert in all of them, but you
can at least have some real good understanding of the subject. Music also is
an essential subject, which matures a human being. It improves and filters
his understanding and makes him a complete human being. There should be more
music schools and colleges, places where they really mean business.
On that idealistic note we concluded the interview. Though I would have
liked to continue delving in the ocean of knowledge, Buddhadevji has his
commitments. He returns to his music room to "practice his sa re ga ma", as
he modestly puts it. He left for Calcutta the same day. Mumbai awaits his
return and I particularly yearn for another journey among the stars.